LaFontaine Hyundai Livonia Has the New 2022 Hyundai Elantra!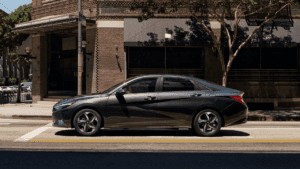 The 2022 Hyundai Elantra stands out in traffic due to its unique styling, but underneath the sharply creased shell is a spacious and practical compact car. Its cabin is decked out with a futuristic design and several high-end features are offered that enhance its overall experience.
The 2022 Hyundai Elantra starts at just $19,850. Head into LaFontaine Hyundai of Livonia to learn more.
Under the Hood
The standard nonhybrid powertrain is a 147-horsepower four-cylinder engine with front-wheel drive and a CVT. If you bump up to the the N Line trim, the 2022 Hyundai Elantra is powered by a turbocharged 1.6-liter four-cylinder engine that puts out 201 horsepower.
The hybrid version of this Hyundai vehicle is equipped with a 1.6-liter four-cylinder engine paired with an electric motor that puts out 139 horsepower. Gearchanges in the hybrid are handled by a six-speed automatic transmission. Both engine options offer good ride quality and enough pep for normal city and highway driving.
The most exciting version of the 2022 Hyundai Elantra is the performance-oriented Hyundai Elantra N. Under the hood of the Hyundai Elantra N you'll find a turbocharged 2.0-liter four-cylinder engine that produces 286 horsepower with an N Grin Shift overboost function. The 2022 Hyundai Elantra N is anticipated to drop this winter. Ask our team of Hyundai dealers for more information.
Interior Specs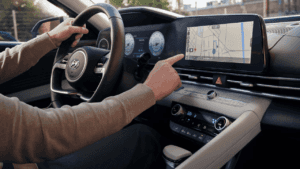 To match its dramatic exterior, the cabin of this new Hyundai vehicle looks suitably advanced. The dashboard and center console wrap around the driver while the passenger's side takes a more minimalist approach.
A single LED strip follows the dashboard-spanning air vent across the width of the car from the steering column to the passenger's-side door panel. Passenger volume is generous, particularly in the rear seat. In the trunk, travelers will have plenty of room for their luggage thanks to 14.2 cubic feet of cargo space..
Are You Ready to Make It Yours?
Visit our Hyundai dealership in Livonia, MI today and leave with one of the best compact cars on the market right now. Our Hyundai finance options can help make the hit to your wallet less painful, as well.