Wheel Alignment: Everything You Should Know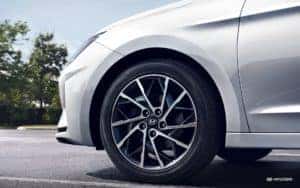 Proper care and maintenance are essential to keeping your car running in optimal condition. Your wheels are crucial to a smooth ride, so you'll need Hyundai wheel alignment services from time to time. We offer these services and more for your Hyundai vehicle at LaFontaine Hyundai Livonia.
Wheel Alignment Basics
Wheel alignment is the process of re-aligning your wheels to their correct position. As you drive your Hyundai vehicle, your wheels turn and shift with your steering. Since roads can be bumpy and even, or you may need to make sharp turns, your wheels are doing a lot of work.
Over time, bumps and dips in the road can cause your wheels to be misaligned, which can affect ease of steering and your tire's lifespan. This is why it is necessary to get wheel alignment service regularly.
When Do You Need Wheel Alignment?
Wheel alignment is recommended on an annual basis to ensure your tires stay aligned and in good shape. If you notice difficulty steering or your tires seem improperly angled when you glance at them, it is time to get them checked out by an expert.
Even if you do not require full alignment service, our technicians can give your tires a check to make sure they are aligned and estimate when you may need wheel alignment completed. We offer both two-wheel and four-wheel alignment services, depending on whether your Hyundai vehicle has two-wheel drive or all-wheel drive.
Keeping up with wheel alignment saves you money in the long run by preserving your tires and helping to prevent accidents caused by misaligned wheels.
Wheel Alignment at LaFontaine Hyundai Livonia
Our dealership's Hyundai service center offers wheel alignment services and wheel alignment checks whenever you need them. We also provide other services, so you can have all of your car's parts checked at once. Schedule service online to reserve your appointment time today.
When your wheels need alignment, our Hyundai dealership in Livonia, MI is the place to go. We offer reliable, manufacturer approved parts and expert service so you can leave feeling confident in your vehicle's service.