Want to Impress Your Friends and Family with A New Ride? Try the 2022 Hyundai Tucson Hybrid!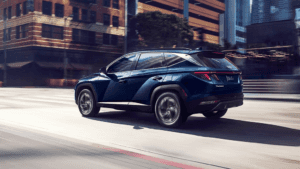 The 2022 Hyundai Tucson Hybrid sports a daring new design that will shake up the Hyundai SUV marketplace. And we here at LaFontaine Hyundai Livonia are prepared to bring this wonderful vehicle to our customers. While its futuristic look will turn heads, the 2022 Hyundai Tucson Hybrid's practicality and pleasant driving dynamics are more than likely to win the hearts of buyers.
Under the Hood
The 2022 Hyundai Tucson Hybrid boasts a turbocharged 1.6-liter engine which puts out 227 horsepower; all-wheel drive is standard with the electrified powertrain and comes with a six-speed automatic transmission. The powerful hybrid model feels quick on the road and will impress buyers with its smooth ride.
While the Hyundai Tucson Hybrid is no sports car, its handling is confident, its steering is reasonably crisp, and its ride is comfortable. What's most striking about the Tucson's driving demeanor is how quiet and refined it feels when cruising; it's these traits that give the SUV a sense of luxury that is rare to find in this class.
Range, Charging, and Battery Life
The plug-in hybrid model comes with a 13.8-kWh battery pack that, according to the EPA, will offer up to 33 miles of electric-only driving. A 7.2-kW on-board charger allows the battery to be fully recharged in about two hours when connected to a level 2 charging station.
Interior Specs
The 2022 Hyundai Tucson Hybrid sports a simplistic but modern dashboard design with a digital gauge display, a push-button shifter, and touch-sensitive control panel for the climate-control system and infotainment. The Hyundai Tucson Hybrid's rear seat space and cargo area are both larger than the outgoing model, providing more passenger comfort and practicality.
The 2022 Hyundai Tucson Hybrid is Waiting. Come and Get It!
This is a premium hybrid vehicle for anyone and any occasion. So, visit our Hyundai dealership in Livonia, MI today and get behind the wheel of the hybrid SUV of the future. Speak with our finance specialists about your Hyundai financing options so you can make your purchase as painless as possible.