Understanding the Benefits of a Hyundai Lease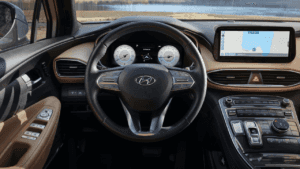 With their combination of reliability, standard features, and America's best warranty, you can't go wrong with today's Hyundai vehicles. A Hyundai lease — which offers more options than you probably realize — ensure that you have all the flexibility and choice you deserve, too.
Best of all, LaFontaine Hyundai Livonia makes leasing a new Hyundai car as effortless as could be.
How Your Hyundai Lease Works
Buying a vehicle has its benefits, including the ability to build equity in your purchase, and to drive as far as you'd like without worrying about going over an allowance. However, under a Hyundai lease from your Livonia Hyundai dealership, there are some downsides to ownership that won't be any concern of yours.
Depreciation is factored into the lease
Someone else — Hyundai financial services — is also responsible for what happens with the vehicle when you're done with it
Unlike a car loan, you don't need a high down payment to enjoy lower monthly payments
The closed-end nature of your lease ensures a degree of flexibility as your life and finances change
You'll have options at lease end as well, be it taking on another lease, buying out your current vehicle, purchasing another Hyundai model, or simply walking away
Hyundai Lease Program Benefits
The Hyundai lease program combines features common to nearly any other auto lease, and a few others you'll only find with the Hyundai brand.
Flexible lease durations, ranging from 24 to 48 months
Flexible mileage allowances, generally ranging from 10 to 15 thousand miles per year
Full warranty coverage for the duration of most leases
You receive the same three years or 36,000 miles' worth of Hyundai Complimentary Maintenance that is extended to new car buyers
Frequent Hyundai lease offers
Loyalty benefits for those buying out their leases, and for returning lessees
A purchase price that's set from lease inception
GAP insurance that is included in the lease
Full dealer support to ensure that the end of your lease goes as smoothly as its inception
Explore Hyundai Finance Options
You may have read this far only to realize that for one reason or another — credit history, driving habits, or just life's general unpredictability — you still aren't sure whether leasing is the right fit for you. We encourage you to take advantage of our many online shopping tools, including a trade-in valuator and online car payment estimator, and if those fall short, we suggest calling LaFontaine Hyundai directly. We'll help you make sense of your options so you can make educated choices. Call, click, or visit us today!