Importance of Hyundai engine service from LaFontaine Hyundai Livonia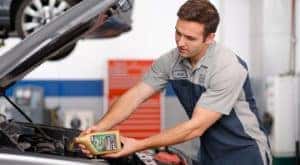 The heart of every Hyundai vehicle is a high-performing sophisticated engine. And just like your heart, you need to take care of your engine with routine and scheduled maintenance.
LaFontaine Hyundai offers high quality and professional Hyundai service for all Hyundai makes and models. Our team of skilled technicians are all factory certified and know your vehicle inside and out. Take their advice on what care your engine needs for optimal performance and efficiency.
Why Engine Maintenance is Important
Your engine is by far the most crucial component of your vehicle, and without a functioning engine your Hyundai vehicle will be inoperable. Overtime dirt, leaves, grimy oil, and other debris can clog and clutter your engine, leading to engine failure, and decay.
Adhering to a consistent and regular maintenance schedule, will not only help extend your engine life, but also prevent you from spending time and money on costly engine replacement.
Other Benefits to Engine Maintenance
Besides extending your engine life and ensuring functionality, engine maintenance can also help increase your gas mileage. By replacing your engine air filter regularly, you can remove obstructions built up in your engine, allowing your engine to perform much more efficiently. By exerting less energy to perform, your engine will consume less fuel, and as a result, increase your gas mileage.
Experts have found that replacing your engine air filter could improve your gas mileage by nearly 15 percent. Next time you service your Hyundai vehicle, make sure you have your engine air filter replaced by LaFontaine Hyundai to help increase the fuel economy of your vehicle.
Hyundai Service and Parts Center
Our Hyundai service center recommends you have your vehicle undergo an engine inspection at least once a year. Schedule service online to make an appointment for engine maintenance for your Hyundai model.
Our Hyundai parts center uses genuine OEM parts with a large inventory of factory OEM parts for your Hyundai vehicle. OEM parts are guaranteed to be more compatible for your vehicle than aftermarket parts, and our parts center charges an affordable and reasonable price for OEM parts.