Hyundai Service Tasks for Fall and Winter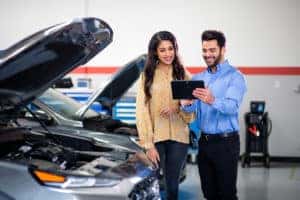 Safe driving should be an everyday concern. With that said, each season puts unique demands on car and driver alike, with Michigan winters being especially challenging. To make sure you're ready for the worst of it, get Hyundai service at LaFontaine Hyundai Livonia!
Get Hyundai Tire Service
While snow tires can come in handy in Michigan winters, even all-weather tires will do just fine. However, there's a catch: they need sufficient tread depth so you still have traction on wet leaves, snow, and ice. Stop by for tire rotation, or for new Hyundai tires if the ones you have are going bald.
Change Fluids to Winter Formulations
Topping off your fluids is important, but by itself, it's not nearly enough. You should also consider replacing motor oil, antifreeze, and even washer fluid with formulations that are intended for colder weather. Oil loses viscosity in the cold, which can damage engines (especially those with turbochargers), while other fluids may freeze.
Ask for Battery Service
Car batteries operate on something of a Catch-22. When the weather is warm, it promotes electrical reactions, making even a battery near the end of its service life seem just fine.
Colder weather improves battery life, but it also slows those chemical reactions. As a result, a Hyundai battery that hasn't been serviced or replaced on schedule might let you down with the first freeze, so make sure you stop by.
Other Hyundai Service Essentials
What other cold-weather essentials can we take care of at your Livonia Hyundai dealership? We can:
Check your heater to ensure proper operation, and while you're at it, change your cabin filter
Check belts and hoses for cracks and other damage
Replace your wipers with a set that's better able to handle snow and ice
Have your brakes inspected, since there's less margin for error at this time of year
Check to make sure your heat is working properly
Inspect your steering and wheel alignment, since you want your handling to be as accurate as possible
Guide you to our Hyundai parts department for essentials like lock de-icer and emergency kits, or accessories like all-weather mats, ski racks, and more
Why Service at LaFontaine Hyundai Livonia?
Some maintenance and fall safety essentials can be taken care of by anyone. Having a scraper and a spare set of gloves on hand helps, for instance. So does keeping your vehicle clean so that its finish and undercarriage aren't corroded by salt.
But many other tasks are better addressed at LaFontaine Hyundai Livonia, especially if you take advantage of our Hyundai service specials. Stop by today for safer driving tomorrow!