Hyundai Service Essentials: Air Conditioning Maintenance and Repair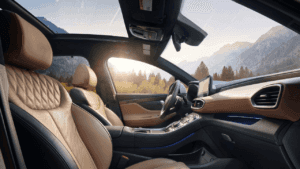 There are many things in life we take for granted. One is the reliability of Hyundai cars. Another is that those cars' air conditioning will always be ready to keep us comfortable on sweltering days.
Rather than taking cool air (and reliability) for granted, however, it's important to visit LaFontaine Hyundai of Livonia for periodic Hyundai service.
Why Car Air Conditioning Matters
When it was purchased or leased, your new Hyundai car came with a five-year / 60,000 mile basic warranty and ten-year / 100,000 mile powertrain warranty. The truth is that it's capable of lasting much longer, provided it's well cared-for at a Hyundai service center, using genuine Hyundai parts.
Your air conditioning, like any other system, needs maintenance over its service life so it can perform its duties well.
It maintains a comfortable temperature
It keeps humidity under control
It ensures that the cabin isn't filled with outdoor air pollutants
It keeps the interior clean
It helps keep you healthier if you're prone to allergies or asthma
How Does the A/C in Your Hyundai Vehicle Work?
Why does your car's a/c need maintenance? Like a window unit or central air, it's made up of several parts, each of which needs periodic inspection, adjustment, or even replacement.
Fans that circulate air
Filters that keep that air clean
Coolant that regulates temperature through condenser coils
A thermostat, coolant, wiring, and much more
A/C Maintenance
When you visit your Livonia Hyundai dealership for air conditioner maintenance, we start by inspecting the system. If needed, we'll change air and cabin filters, recharge or change the refrigerant, and make sure that electrical and mechanical parts are all working properly, making adjustments, cleaning, and lubricating as we go.
Why Visit a Hyundai Service Center for A/C Service?
The reasons to visit a dealership for service are twofold. To begin with, sometimes your system may need repairs instead of maintenance. Common a/c problems like warm air coming through the vents, an unusual smell in the cabin, or low airflow, can each have multiple causes that are best diagnosed and addressed by a trained technician.
The other reason is that you're a/c is more sensitive than some other systems. Handling refrigerant, for instance, can pose health and environmental hazards. Leave it to the experts!
Hyundai Service Near Me
No matter what kind of maintenance or repairs your vehicle may need, leave it to the experts at LaFontaine Hyundai Livonia. We'll get you back on the road safe and sound, and even help you save money with our Hyundai service specials. Feel free to call ahead, or simply stop by today!