Hyundai Oil Change Service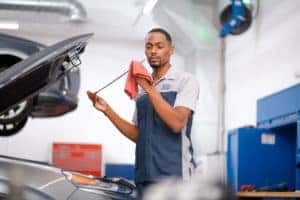 What's the most important part of car maintenance? There are plenty of items vying for attention, and all of them are important in their own ways. But for our money, one of the most important things you can do for your vehicle is also one of the simplest and least expensive: a Hyundai oil change from your Livonia Hyundai dealership.
How Motor Oil Works
Need a good reason to visit LaFontaine Hyundai Livonia? How about saving money? Rebuilding or replacing an engine is expensive, after all. Motor oil reduces the chances of that happening because of everything else it reduces; the lubrication it provides reduces friction, and less friction means less heat, and reduced engine wear.
Of course, there's a catch. Motor oil wears out just like many other Hyundai parts. When it does, it stops cooling and cleaning and actually starts contributing to engine heat and wear instead. Since you probably don't want your engine to overheat or seize up, it's important to chance your oil on schedule.
How Often to Change Your Oil
Check your owner's manual and pay attention when your Hyundai vehicle tells you it's time for an oil change. In older models, you'll average about 5,000 miles. But newer models using synthetic motor oil can go longer between changes — up to 10,000 miles in some cases.
So, age, use (including how often you tow or haul heavy loads), and the amount of time you spend in stop-and-go traffic will all figure into the equation. If you're ever unsure, just ask your Hyundai dealer.
Car Care Between Oil Changes
Remember that your vehicle needs other maintenance too, much of it covered by Hyundai Complimentary Maintenance on newer models. But for all the things a Hyundai service center can do, you have a part to play too.
Be sure to check your oil from time to time; chronically low oil usually signals a leak, while oil that's dark in color should be changed. Also pay us a visit if your check engine or oil lights come on, or if you smell burning oil or exhaust in the cabin.
Visit LaFontaine Hyundai Livonia for Auto Maintenance
You rely on your vehicle for more than transportation. Efficiency, comfort, and safety all matter too, so visit our Hyundai dealership in Livonia, MI for maintenance with genuine Hyundai parts, Hyundai service, and more. Everything you need is a call, click, or visit away!