Get Your Car in Top Shape with Vehicle Maintenance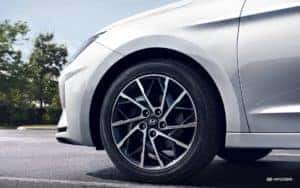 Neglecting to service your Hyundai vehicle will come at the cost of your safety and investment. Just ask our Hyundai vehicle maintenance professionals at LaFontaine Hyundai Livonia. The team at our Hyundai dealership in Livonia looks out for the best interests of drivers.
From their safety to their Hyundai Sonata, we have them covered with our available, quality services. For information on vehicle maintenance, visit us for helpful insight and resources.
The Importance of Vehicle Maintenance
Vehicle upkeep requires commitment from the driver, but trust us, the rewards outweigh the chore. Vehicle maintenance extends the life of your Hyundai Sonata. It also averts travel interruptions, like experiencing a flat tire or an overheated engine.
Investing in your new Hyundai car now holds a promising future for it tomorrow. Our Hyundai service center offers vehicle maintenance for drivers committed to preserving their vehicle's value and performance.
Hyundai Vehicle Maintenance Checklist
By following a vehicle maintenance checklist, you'll be in good hands and a far cry from a breakdown. Bear these services in mind to ensure the optimal condition of your new or used Hyundai Sonata:
Oil Change: Getting an oil change every 6,000 miles or six months will keep your engine running smoothly.
Tires: A wheel alignment, tire rotation, and air pressure check will prevent premature tire wear.
Spark Plugs: Poor fuel economy, a misfiring engine, or delayed acceleration are signs that you may need a new spark plug.
Car Battery: Sometimes, drivers will leave their headlights on overnight. We'll inspect your car battery to ensure it has plenty of life left.
Brakes: Having strong brakes in excellent condition is instrumental to your safety. If you sense any grinding or screeching sounds, bring your Hyundai car to our Livonia Hyundai vehicle maintenance experts.
Wiper Blades: Wiper blades increase visibility during severe weather. Let us replace any tattered or frayed wiper blades for you.
It can be a matter of safety or danger without proper Hyundai vehicle maintenance. Bring your vehicle to our Hyundai service department at our Livonia Hyundai dealership. Make and appointment online or give us a call today!