Frequently Asked Questions When Seeking Hyundai Service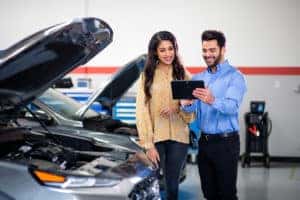 The signs you need Hyundai service can be very clear. A strange smell, erratic mechanical behavior, or an odd feeling in your brakes can all spell trouble. To help, put you at ease, our Hyundai dealership in Livonia, MI and service center put together a handy guide to some common service questions.
My Engine is Making a Knocking Sound. What Does That Mean?
An unusual sound in your engine can come from numerous different sources. Usually, this is caused by fuel burning unevenly in your car's engine. This can be caused by faulty spark plugs or excess carbon buildup in your engine, among other things.
Whatever the reason, this issue shouldn't be ignored in your Hyundai Tucson or other vehicles, as it can wear on your powertrain and dramatically reduce fuel economy.
Will My Car's Warranty Cover My Repairs?
Warranty coverage depends on numerous factors, including the age and mileage of your vehicle in relation to its original warranty status.
Swoop on these CouponsCheck our website for various service-related coupons that make our top-tier service even more affordable.
Visit us online or schedule an appointment at our service center, and our expert technicians will be able to verify your vehicle's warranty status in minutes and set up a plan of action to have you back on the road in no time. You'll also have peace of mind knowing that we use authentic Hyundai parts that last.
How Long Does Service Usually Take?
The answer depends upon the type of service being rendered. You can expect to be in and out in under an hour for oil changes and standard inspections. You can even partake in our luxurious service center amenities, such as free Wi-Fi, light refreshments, and flat-screen TVs.
If more intensive repairs are required, like transmission or brake service, our friendly technicians will be by your side the whole way. We even offer complimentary transportation services along with home/office pickup and delivery.
Safe Service with a Smile
To best protect you and our technicians, our service center and waiting room are regularly sanitized and cleaned.
Can we purchase tires at the dealership?
Yes, we have tires for sale.
May I bring any vehicle in for service?
We service all makes and models. In addition to servicing on-brand vehicles, we also service all non-brands to meet our customer needs.
How do I schedule an oil change?
You can schedule an oil change online or call our dealership to make an appointment
LaFontaine Hyundai is Here for Your Servicing Needs
If your Hyundai is giving you signals that it's time for an inspection, don't delay another day. Visit our website or onside service center at LaFontaine Hyundai of Livonia today to schedule your service.