Feeling Tired: Don't Sleep on Servicing Your Hyundai Tires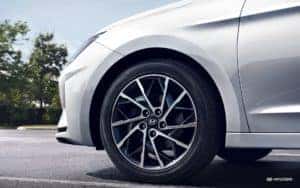 With so many options for tires these days, it can be a daunting challenge to pick the best Hyundai tires for your car. Luckily, our Livonia service center has you covered with a quick and handy crash course in all things tire-related
In principle, tires are very simple. They are made of rubber and filled with air, contributing both to your car's ability to maintain traction on the road and the overall smoothness of your ride.
The Importance of Tire Service
Most drivers don't give a thought to their tires unless a flat or a warning on their car's display alerts them that something is wrong.
Tread With Care
As a set, the unique treads of your tires work together to provide traction for a variety of different road conditions, including highways and paved roads, all-terrain, and winter roads. Consult with our specialists today to determine which is right for your Hyundai.
With winter fast approaching, however, smart Detroit drivers know that it's critically important to regularly check and maintain their tires. A small puncture or worn-down treads can mean big trouble once freezing temperatures set in. Stay ahead of the weather by scheduling an appointment for a tire inspection at our Hyundai service center.
Types of Tire Service
One of the most common regular services for tires is rotation. Over time, tires will wear down in different locations based on where they sit on the axles of your new or used Hyundai.
If they are not rotated, this uneven wearing can put a strain on your drivetrain, which can result in worse fuel economy and uneven traction. That can spell danger for both you and your car.
In general, it's recommended to rotate your tires no later than every 5,000 miles, though it's never too early for a check-up to see how the rubber meets the road. In addition to preserving the longevity of each of your tires, a rotation gives our certified technicians the opportunity to inspect your tires for other signs of wear like punctures or over-worn treads.
Under Pressure
Did you know that an over or under-inflated tire can dramatically lower your car's fuel economy? It's one more reason to schedule regular tire service at our Lavonia auto shop.
In the event of a minor puncture, our technicians can help patch it; or if there's more substantial damage, they're fully equipped to help you choose the best tires for your Hyundai Tucson or car.
Schedule Your Regular Tire Service Today
If it's been a minute or two since your last tire inspection, give us a call to schedule an appointment at LaFontaine Hyundai of Livonia. Our onsite service center will be glad to assist you and recommend the best set of wheels to get you rolling again.